Dynamics 365 Business Central
Connect and grow your business like never before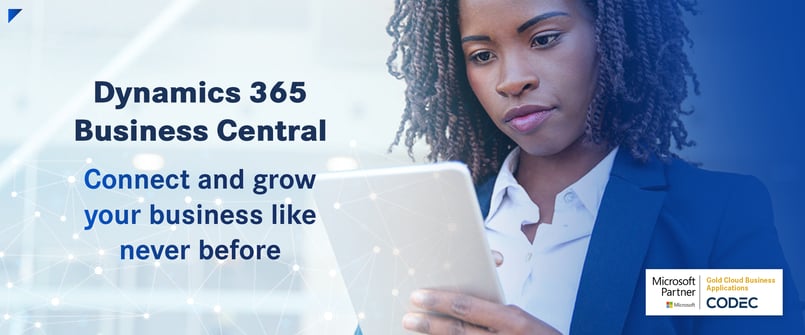 Despite the difficult operating environment faced by many companies currently, the potential for technology to help has never been greater.
Microsoft Dynamics 365 can help businesses meet today's challenges by bringing their customers and business together with the next generation of Customer Relationship Management (CRM) and Enterprise Resource Planning (ERP) applications.
Dynamics 365 Business Central SaaS connects people and processes like never before. Customers use Dynamics 365 Business Central to improve predictability, manage cost, optimise business processes, enhance customer interaction and ultimately make better business decisions.
Based on the Microsoft Azure platform, Dynamics 365 Business Central SaaS is highly adaptable and rich with features, transforming how companies manage their business processes, including finance, manufacturing, sales, logistics, project management, services, and more.
If you're a Dynamics GP user and want to know more about the reasons you should look at migrating to Dynamics 365 Business Central then read our blog " Top 10 Reasons for Making the Move from Dynamics GP to Business Central". Read the Blog
Find out more and how to make a move - Register for our webinar on 6th May @10am
Some of the Benefits of Dynamics 365 Business Central SaaS
Increase financial visibility
Make informed decisions with connected data across accounting, sales, purchasing, inventory, and customer transactions. Chart financial performance in real–time with built-in Power BI dashboards.
Improve forecast accuracy with comprehensive data modelling and analysis. Customise and share reports with seamless Excel integration.
Optimise the supply chain
Predict the optimal time to replenish stock with built-in intelligence. Use sales forecasts and expected stock-outs to automatically create purchase orders.
Calculate and optimise manufacturing capacity and resources to improve production schedules and meet customer demands. Maintain the right amount of inventory by automatically calculating stock levels, lead times, and reorder points.
Boost sales and improve service
Prioritise sales leads based on revenue potential. Keep track of all customer interactions and get guidance on best upsell, cross-sell, and renewal opportunities throughout your sales cycle. Accelerate the sales process from quote to cash. Act quickly on sales-related inquiries, manage service requests, and process payments—all from within Outlook.
Deliver projects on time and under budget
Create, manage, and track customer projects using timesheets along with advanced job costing and reporting capabilities. Develop, modify, and control budgets to ensure project profitability. Make effective decisions with real-time insights on project status, profitability, and resource-usage metrics.
Protect data and support GDPR compliance
Respect your customers' right to privacy and set up your business to comply with the General Data Protection Regulation (GDPR). Grant and restrict access to personal data on multiple levels and implement audit trails to ensure security and accountability.
Handle, store, and transmit data securely across your systems while protecting it from unauthorised access with automatic Microsoft data centre encryption.
Run a business from anywhere
Get the same user experience no matter how you deploy—in the cloud, on-premises, or a combination of both. Take your business on the go with a consistent, intuitive experience across Windows, Android, or iOS devices for mobile access to Business Central.
Interested in learning more about the benefits of moving from your on-premise environment to D365 Business Central Online and what steps you need to take? If so, then register for our upcoming webinar "Making the Move to Dynamics Business Central: All you Need to Know" on Thursday 6th May at 10am