Microsoft Immersion Workshop: AI
16th of May 2022 |

10:00 AM - 02:00 PM | (GMT+00:00) Dublin, Edinburgh, Lisbon, London
Join Codec to explore how to accelerate your organisation's innovation by incorporating AI into your new and existing apps at this Microsoft Azure Immersion Workshop: AI.
You'll gain a deep understanding of the possibilities and best practices of modernising your apps with AI, followed by hands-on deep dives into Azure AI tools and relevant topics like machine learning, knowledge mining, cognitive services and chatbots.
When

: Thursday 7th April, 2022, 10am - 2pm

Where: Online
Who should attend:
Architects
IT administrators
Developers
Data scientists
Technical level:
Attendees should be able to credibly discuss, offer perspective and integrate technology from minimal practical experience.
Not sure if this workshop is right for you? To better understand the technical depth of the content that will be presented, check out this

sample lab.
After completing this workshop, you will:
Have hands-on experience using Azure Cognitive Services, Azure Cognitive Search, Azure Machine Learning, Azure Bot Service and Azure Databricks.
Learn how to accelerate innovation in your organisation with Azure AI.
See which Azure AI solutions are most applicable to you and your business.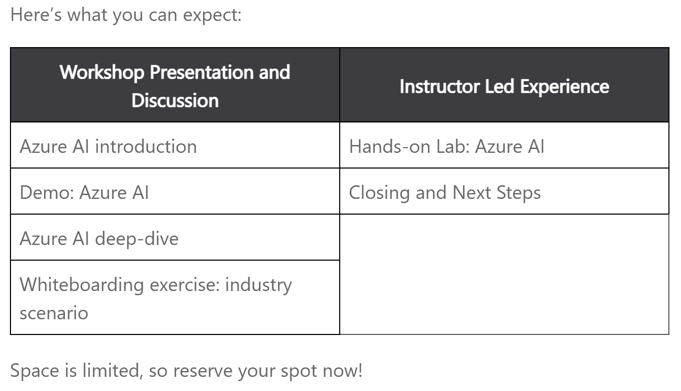 Note: Microsoft Teams delivers a rich, interactive experience that works best with the Teams app. We recommend downloading the app if you don't have it, as not all browsers are supported. When you join this event, your name, email and/or phone number may be viewable by other session participants in the attendee list. By joining this event, you're agreeing to this experience.