Why Microsoft 365 Business is the right choice for SMBs?
For the first time, Microsoft is offering an integrated platform that brings together the productivity of Office 365, Enterprise, Mobility and Security (EMS) and Windows 10. This cost-effective, subscription-based cloud service is built especially for small and medium-sized businesses like yours.
It empowers your team to be productive every day with Office 365, no matter their locations. Plus, you can use Windows 10 Pro to manage controls with automatic updates to securely protect your company's data across devices. While EMS will enable you to keep pace with security challenges and stay productive no matter what device or app you are using.
Microsoft 365 Business was purpose-built for small and medium-sized customers
Do you have little to no IT resources on staff?
Do you need a solution that provides employees with the best-in-class productivity and collaboration capabilities of Office 365 AND device management AND security solutions?
Do you want to safeguard business data and assets across multiple devices?
If you have answered yes to the above queries then Microsoft 365 Business is the package for you. Click below now to try it.
What Microsoft 365 Business can do?
Today's mobile workforce extends the business beyond the office and customary work hours. Security as a Service, powered by Microsoft 365, helps businesses stay agile and competitive, keeping data, tools and resources accessible, yet more secure, anywhere, anytime.
Microsoft 365 Business provides a solution that addresses IT and Bring-Your-Own-Device (BYOD) challenges while providing a secure end-to-end managed cloud environment that encompasses identity, apps, content and devices.
Companies invest in technology to optimise operations, transform products, engage customers, and empower employees. The challenge is finding the way to empower people to do their best work. This starts with fostering a culture of work that is inspiring for everyone, and embraces the trends in the workplace that make work inspiring.
To deliver on the tremendous opportunity for business growth and innovation brought about by digital transformation, Microsoft 365 Business simplifies the customer experience by bringing together Office 365, Windows 10, and Enterprise Mobility + Security. It's a complete, intelligent solution that empowers everyone to work together, securely.
Let's Look at some of the Business Benefits
Collaboration
83% of knowledge workers depend on technology to collaborate.

35%of knowledge workers still collaborate on documents using email.
Problem: Emailing files is slow and inefficient. How can employees know they're looking at the latest version? How can they make quick decisions?
Solution: Microsoft 365 Business
It is powered by Office 365, so employees can easily jump on a Skype for Business video conference to communicate, view files, collaborate, and plan next steps as if everyone is in the same room.
Mobility
42% of workers find mobile apps have less functionality or are harder to use than non-mobile apps.
61% of employees believe effective business tools allow them to offer faster service.
Problem: Without the right tools, mobile workers may not be able to respond quickly to customers and stay productive outside the office.
Solution: Microsoft 365 Business integrates Office 365 apps, OneDrive for Business file storage, and Outlook, among other tools, to keep employees working on the go and connected to email, calendars, and data — even offline. When the connection is restored, their files and inbox sync automatically.
Security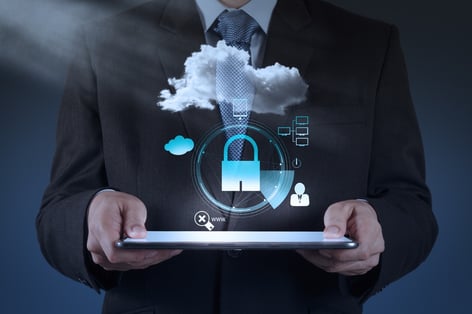 28% of employees use at least one unsanctioned tool to supplement the business tools provided by their company.

The average cost to investigate, contain, and remediate a compromise of one employee's mobile device is $21,042.
Problem: A skyrocketing number of devices and apps put your company's sensitive data at risk.
Solution: Microsoft 365 Business, powered by EMS, provides automatic and universal enforcement of security policies that'll reduce your business's risk of data breaches. Devices receive the latest updates, and built-in encryption locks down lost and stolen devices.
Be Reassured with EMS
EMS protects across users, devices, apps and data and is specifically designed to work together with Office 365 and Windows 10 to enable security that does not compromise user experience. EMS also secures and manages across thousands of SaaS applications, on-premises apps, as well as safeguarding data across iOS and Android devices. All this adds up to an intelligent security solution to support your organization's digital transformation.
In the 3 years that EMS has been available, over 46 thousand organizations have chosen EMS to secure their move to a new culture of work.
These organisations had varying concerns about mobility, security and their data and EMS had all the answers. As a key component of the Business 365 solution EMS enables users to:
Control who accesses what
Centrally manage single sign-on across devices, your datacentre, and the cloud.
Protect against advanced cyber threats
Comprehensive, intelligent protection against today's advanced attacks.
Manage everything from one place
Securely manage apps and data on iOS, Android, and Windows from one place.
Keep your data safe
Intelligently safeguard your corporate data and enable secured collaboration.
---
Why Codec?
New technologies are changing everything from the way we interact with friends and family on social media to the way we engage with our customers, our employees and our business partners. We can help you on this journey through the Digital Transformation landscape with clear thinking on how you can move upward into real business value whether you are already using cloud technologies or are a complete newbie. Getting there is one thing, building business value?....well that's a different skill set.

Here at Codec we like to start a conversation by asking the question "What's the problem, what's not working for your business?". Codec is driving business growth through excelling in customer focused solutions backed up by the formidable Codec Services team that has consistently delivered to our Customers for over 30 years.
We strongly believe that Microsoft 365 Business fulfills a very real need in the marketplace enabling small to medium-sized organizations to make the jump to the cloud and work smarter, better and faster than ever before, while backed up by the robust security resources provided by Microsoft which are more and more necessary as we enter the era of advanced cyber threats, data regulation and sophisticated hacking techniques.
Our Customers
Any questions? Get in touch with us by calling 01 603 4300 or emailing info@codec.ie.